HELPFUL HINTS TO STOP SCAMMING
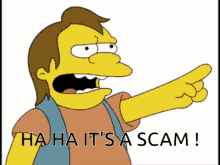 You see a post about making easy money. Scammers ask for your debit card and PIN
or mobile banking username and password to deposit a fake check into your account
They may ask you to report your card lost or stolen or that your credentials have
been compromised in order to seek reimbursement from the bank. In exchange,
scammers may promise you a portion of the funds you deposit.

Phishing is the fraudulent attempt to obtain sensitive information, such as
usernames, passwords, and account details, typically through an email, text
message, or even a phone call. These messages may impersonate a company,
charity, or government agency and often make up an urgent request to convince you
to sign on to a fake site, open an email attachment containing malware, or respond
with personal or account information. The information you provide can be used to
commit identity theft or access your account to steal money. If you receive a
suspicious email or text message, don't respond, click any links, or open
attachments. Don't sign on to ANY account from a link in a suspicious message.

You receive a phone call, email, or letter stating you have won a lottery or
sweepstakes or purchased an item or renewed a subscription that you don't own,
Scammers require you to pay a fee to receive the prize to avoid taxes or additional
fees or may even threaten to report you to the IRS or police if you don't make the
requested payment.

Scammers use online dating sites, social networks, and chat rooms to meet potential
victims. They create fake profiles to build online relationships and eventually request
you send money due to a hardship.
Tip
: Do not give personal information, account numbers, or credit card information to someone you recently met online.

VIRUS/RANSOMWARE You unknowingly download a type of malicious software to
your computer. This software is designed to block access to your operating system
and all the information stored on your PC until you pay a sum of money to an online
criminal.
Tip:
Install good scam blocker like ESET or MALWAREBYTES.
Back up your data regularly by syncing your files to a secure external drive or backup service such as cloud storage.